---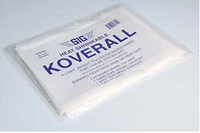 SIG KOVERALL 2 YDS Save $1.25 4th of July Blowout!
VINTAGE PERFORMANCE
SIG Heat Shrinkable Koverall
THE BEST MODELS USE THE BEST COVERING

A light weight polyester based fabric that shrinks tight with heat. It has high strength and is easy to apply. Accepts all common model paints like dope, enamel or epoxy and weighs 1.25 oz. per sq yd..

Koverall is a cloth covering of the type used on full-scale aircraft, but in a lighter weight (1-1/4 oz. per sq. yd.) for models. Koverall can be used on almost all R/C models large or small. Its superior strength and low price has made Koverall a real favorite with builders of giant size models. It's the most economical cloth covering you can buy!
SIG Koverall is an uncoated, heat shrinkable plain fabric. It has no glue on it. To adhere Koverall to a model, you can either dope it on ala the traditional silk-and-dope method, or better yet, use SIG Stix-It heat activated covering adhesive (see below). Just brush a coat of Stix-It on the model framework, let it dry, then iron-on the Koverall just like you would a much more expensive iron-on fabric covering. Once the Koverall is stuck down around the edges, it can be shrunk perfectly tight with an iron or heat gun. Seal the Koverall with 1 - 2 coats of Sig Nitrate Clear Dope and then apply the finish of your choice.